"At CD Studio d'Arte , we are dedicated to the world of modern and contemporary art, a mission that can be complex and fascinating at the same time.
We come into contact with people's tastes, desires and passions, and we know that there is no objective beauty, but only a personal perception of it .
Each work we present is selected with care and passion, and we are always proud to share this passion for art with our visitors."
A passion that has always accompanied us
The constant search for new proposals, collaborations with other galleries and merchants, allow us to satisfy the needs of our collectors, without ever forgetting the craftsmanship to achieve a result that will accompany the buyer for a lifetime.
Every time we deliver a painting with its respective frame, we feel we are being hosted in our customers' homes.
Each finished job is our calling card; a part of us enters the rooms, the living rooms, the most hospitable environments, the offices of professionals and people who have chosen our expertise, our experience and have shared our sensitivity.
Artisan excellence
is a value that has always characterized the work of CD Studio d'Arte: thirty years of experience, born with a small artisan workshop of frames, where the skill of a furniture maker has transformed the standard idea of a frame into a specially made product for any need, to the point of becoming the point of reference for most of the city of Padua.
Since 1993 the activity has naturally evolved to become a major reality in the world of contemporary art ; the small workshop moved to an exhibition space in the heart of Padua, in Via Buonarroti 131 (SS Trinità area) becoming an art gallery.
The Gallery
Throughout our career, we have created many exhibitions, presenting artists who have grown over time and established themselves nationally and internationally.
We have organized exhibitions of painting, photography, sculpture, happenings between painters and students, always giving space to new proposals.
In recent years we have dealt with a Street Art themed event, transforming a city event into an increasingly participatory recurrence. The festival takes place in Padua and its province under the name of the Street Art Super Walls Biennial .
This is our thirty-year work: other important projects await us with institutional exhibitions and presentations of international artists, with a commitment that is renewed in daily challenges without ever losing sight of our roots that have allowed us to get to this point.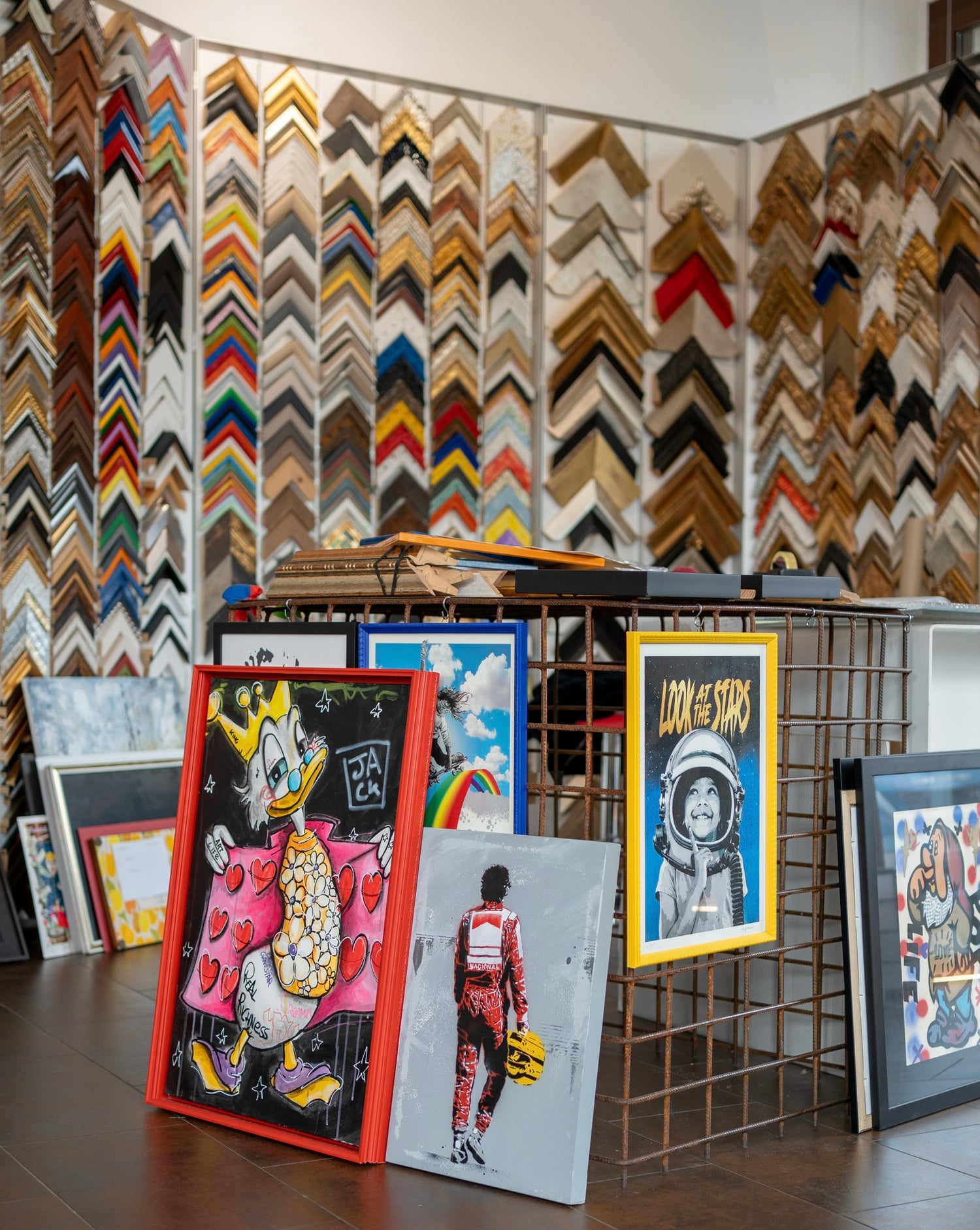 Custom Frames
Our gallery has a large selection of handcrafted frames to help you frame your work of art. In fact, we believe that art, together with its "outline", its frame, is the perfect combination capable of enhancing the personality of our customers.