Julien Friedler (Brussels 1950 - 2022) was a singular figure on the contemporary art scene. His literary past, his training as a psychoanalyst, his love for philosophy and the writing of various erudite works, as well as his taste for travel and for meeting different and often distant realities have built the basis of a labyrinthine thought that he sees an emblematic realization hypothesis in the visual arts. Paintings, sculptures, installations are the spokesmen of a rich imagination, and constitute the visible signs of a mythical truth that the artist develops through highly personal themes.
The Belgian artist is the bearer of a humanist vision, outlined through the works but also with a sharing activity that he carries out through Spirit of Boz , an association created to establish - by practicing oral, literary, pictorial and creative expression in general – exchanges and ties, thus constituting a community of thoughts and testimonies on individual and collective realities, coming from various places in the world. This reality expresses the urgency of reconciling action and contemplation, with the aim of promoting a humanist and cathartic thought. His universe, in permanent evolution, includes opposing facets, one of collective inspiration, the other of individual meditation. It is to this last aspect that the pictorial production belongs.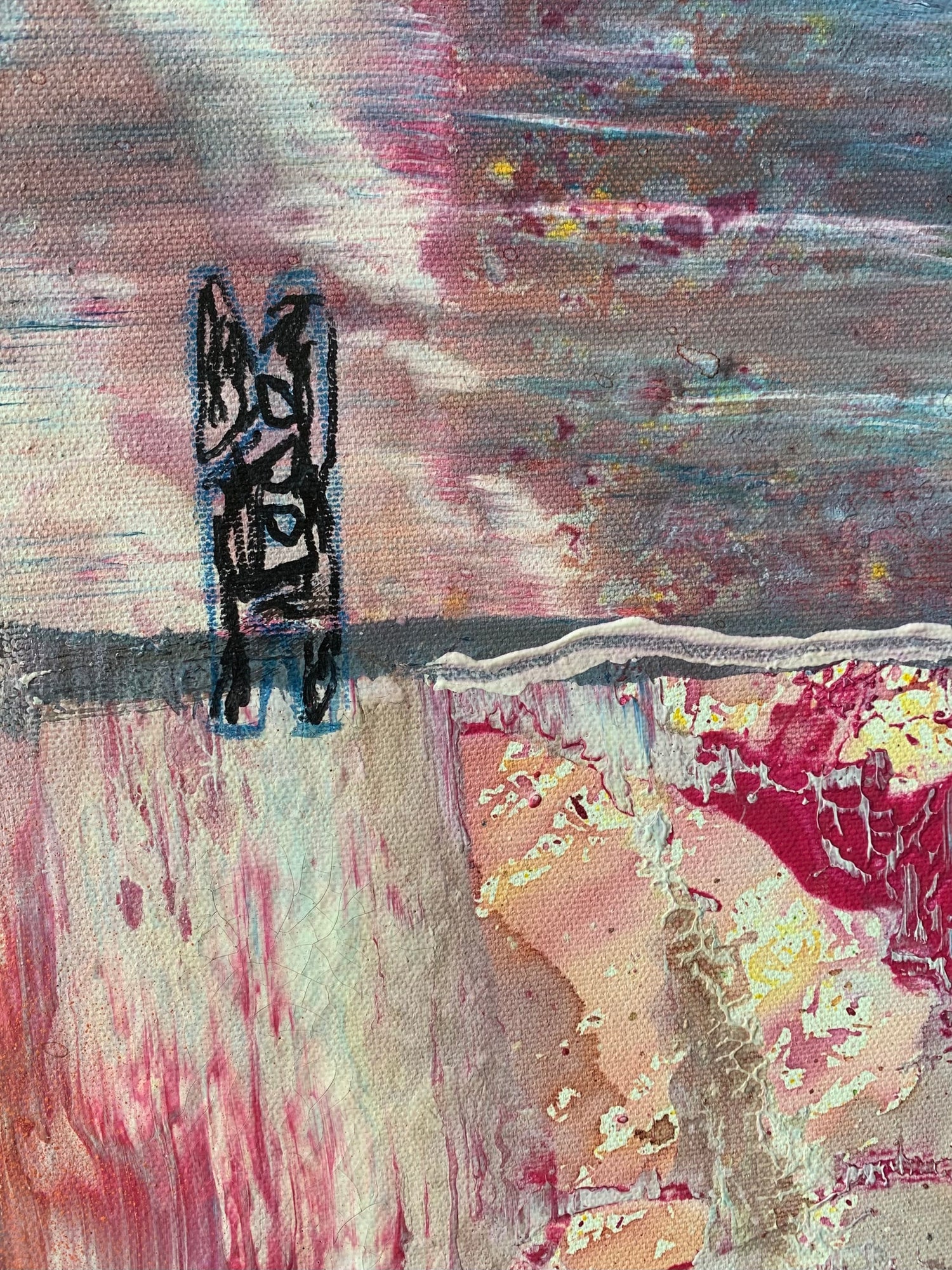 Friedler's art sets in motion sensations, relationships, analyses, and is conceived as an inclusive action of all vital expressions, whether they derive from one's own experience or that of others. Its action, consequently, takes on multiple aspects and embraces various fields, from literature to philosophy, from sociological analysis to the plastic arts (painting, sculpture). His language involves a pictorial production generated by creative necessity, by the desire for spontaneous and visceral transmission, deriving from the "attempt to discover what constitutes the passionate essence of people". Friedler proceeds in an almost hypnotic way, without constraints of subjects, of materials used, thus defining a rhythm, an informal way of expression. His expanding energy comes from the capacity for dissociation and introspection he applies to himself before taking an interest in others, discovering the most intimate motivations in the other. A journey to explore the human soul in its atavistic and universal complexity.
Personal exhibitions
2022
The comedy is over , Church of San Samuele, Venice VE
2020
Mapping , Sant'Elia Foundation, Loggiato di San Bartolomeo, Palermo PA
Mapping , Palazzo Libera, Villa Lagarina, TN
La Forêt des âmes , Beffroi de Saint-Germain L'auxerrois, place du Louvre, Paris
2019
Boz Mythology, Julien Friedler , Stash Gallery – the Crypt, London
Les Innocents , Fort Santa Tecla, San Remo
2018
Behind the world, Julien Friedler , Complesso del Vittoriano, Rome
La parole des Anges , La Cité Miroir, Liège
Vibrations, exposition by Julien Friedler at the Church of the Madonna del Duomo Vecchio, Arezzo (It)
Julien Friedler, La Parole des Anges , SR-Valverde Gallery, Brussels
Be Boz Be Art and Friedler's paintings , Galleria Gli Acrobati, Turin
Spirit of Boz Paintings – Julien Friedler , Berlaymont Building, Commission Européenne, Brussels
2017
Accrochage , Spirit of Boz Association, Knokke
The Forêt des âmes, Church of Santi Giovanni e Paolo, Spoleto
Boz Legend , Rivara Castle-Museum of Contemporary Art, Rivara (To)
Face to Face , Villa Croce Museum, Genoa and Unimedia Modern Gallery, Genoa
2016
La Forêt des âmes , Museum Theater of the Commenda di Pré, Genoa
o Retro Boz , Museum of Visual Arts, Palazzo Collicola, Spoleto (cat.)
La Forêt des Âmes , Alliance française, Venice
Mania Boz , Villa Bassi Civic Museum, Abano Terme
2015
2014 – 2015
Voyage , Girolamo Rossi Civic Archaeological Museum – Forte dell'Annunziata, Ventimiglia, Italy (Cat.) 2012 o Galerie Gourvennec-Ogor, Marseille 2010 o Spirit of Boz, the Truth of the Labyrinth , CW Gallery, New York 2009 o MUBE, São Paulo o Dialogues , The National Gallery For Foreign Art, Sofia o Jack Balance , Christopher Henry Gallery, New York 2008 o Be Boz , Heilig Kreuz Kirche – Sotheby's, Munich 2007 o In Quest , curated by Michel Dewilde – Galerie Philippe Seghers, Oostende 2005
The Innocents (Music: Messiaen, text: Primo Levi) or La Parole des Anges , Galerie Philippe Cazeau La Beraudiere, Paris 2004 or Paroles et Paraboles ou le Mythe en question , Passage de Retz, Paris or Memories , David Di Maggio Gallery, Berlin 2003
The Childhood of Art , curator: Dominique Stella, Mudima Foundation, Milan (cat.)
Featured works
Regular price

€4.000,00 EUR

Regular price

Sale price

€4.000,00 EUR

Unit price

per

Regular price

€11.000,00 EUR

Regular price

Sale price

€11.000,00 EUR

Unit price

per